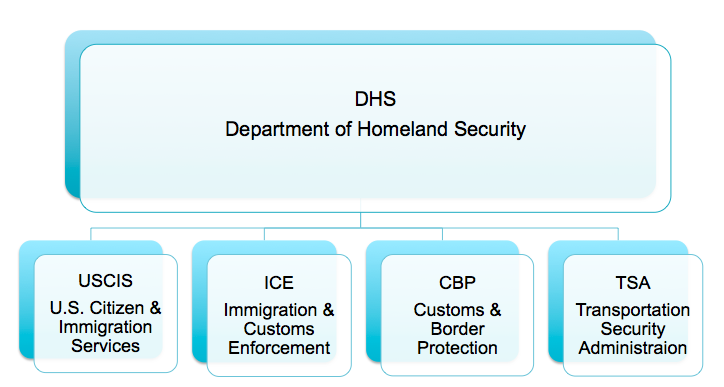 The Department of Homeland Security (DHS) is one of the four main federal agencies dealing with immigration in the United States. DHS encompasses U.S. Citizenship & Immigration Services (USCIS), Immigration & Customs Enforcement (ICE), Transportation Security Administration (TSA) and Customs & Border Protection (CBP).
USCIS is the most familiar agency among those seeking immigration benefits. It is responsible for managing lawful immigration to the United States. USCIS handles immigration applications, adjudicating if an individual qualifies for certain benefits. These benefits include citizenship, immigration of family members, work permits, green card (permanent residence), immigrant waivers, etc., and are granted based on various qualifying factors. These qualifying factors vary greatly from case to case- for example, USCIS' requirements for an asylum application is very different from what they require for a marriage-based green card application.
ICE enforces immigration laws within United States, promoting legal immigration and combating terrorism. ICE also is responsible for processing nonimmigrant waivers. CBP is similar to ICE but maintains immigration laws on the U.S. borders, not within the United States. The TSA enforces immigration laws with regards to all sectors of transportation including air travel, highways, busses, public transportation, etc. TSA is most commonly known for their role in airport security, primarily screening passengers and luggage.
These four departments within DHS work collectively to promote legal immigration and combat terrorism. The policies they enforce are decided upon by other branches of the federal government.