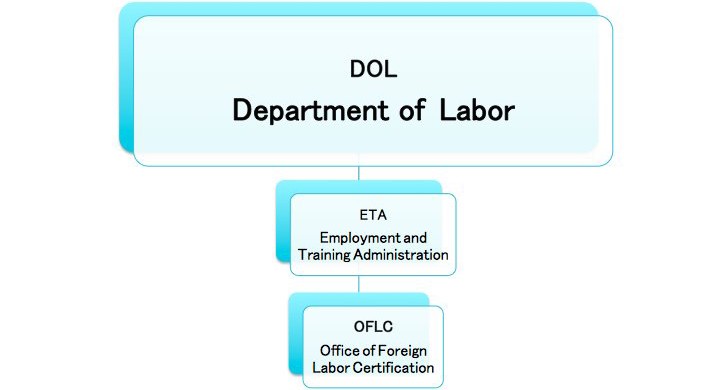 The Department of Labor (DOL) has a wide variety of roles within the United States, but a limited role in immigration policies. Under the Employment and Training Administration (ETA) within the DOL, U.S. employers can apply for foreign workers to come to the U.S. and work for them. This process is called Foreign Labor Certification and takes place in the Office of Foreign Labor Certification (OFLC) within the ETA.
Within the OFLC, there are different processing centers that are responsible for the various programs. They do not adjudicate visas but determine whether an individual is eligible for a work-related visa. The National Processing Center in Atlanta is responsible for adjudicating Permanent Labor Certification Petitions (PERM). PERM allows an employer within the United States to hire a foreigner to work permanently in the United States.
The National Processing Center in Chicago is responsible for temporary labor certifications: H-1B, H-1B1, E-3, H-2A, H-2B, H-1C, and D-1. The H-1B, H-1B1 and E-3 Programs are set up to determine if a Specialty (Professional) Worker from outside the U.S. is eligible to receive a work-based visa. Speciality occupations include careers in the fields of science, medicine, health care, biotechnology, business specialities, and education. The H-1B1 Program determines if foreign workers from Chile and Singapore are eligible to work in the United States on a non-immigrant basis in professional fields. The E-3 program is only available for skilled workers from Australia working in specialty occupations. The D-1 Visa is for Crewmembers for Longshore Actives in U.S. Ports.
In addition to the National Processing Centers, the DOL also encompasses the State Workforce Agencies (SWAs), which adjudicates a foreign worker's agricultural and non-agricultural visa eligibility. The SWAs oversee the H-2A program, which allows U.S. employers working in the agricultural field to temporarily hire foreign workers. The H-2B program is a temporary non-agricultural program which allows American employers to hire foreign workers when there is a lack of qualified U.S. workers in a specific field.
The PERM process is the only permanent program. The others are temporary, and can be seasonal, one-time, or intermittent. For each of these programs, the DOL only determines whether an individual is qualified to receive a work-related visa. The visas are then processed within the Department of State (DOS).